PROCOLCACAO works for human development with social responsibility. Our working approach seeks to build and strengthen a new model of sustainable production that protects and dignifies the work of Colombian farmers, and defend a balance with the environment. The benefits of such a model are focused on providing guarantees of fair trade for producers and their families, as well as their solidarity organizations, with clear action to share with the business income of the cacao, so the productive effort will be paid at a fair price.
PROCOLCACAO is a private organization, based on the principles of freedom, solidarity, cooperation, justice and peaceful coexistence. For this reason we advocate the integral humanism as a cornerstone of our business and social action.
The processes that shape the actions of PROCOLCACAO in Colombia are: conceptualization, planning and ordered execution. From them, it is oriented the productive activity of the best cacao, fine of flavor and aroma. This will promote and develop best practices for harvesting and post harvest.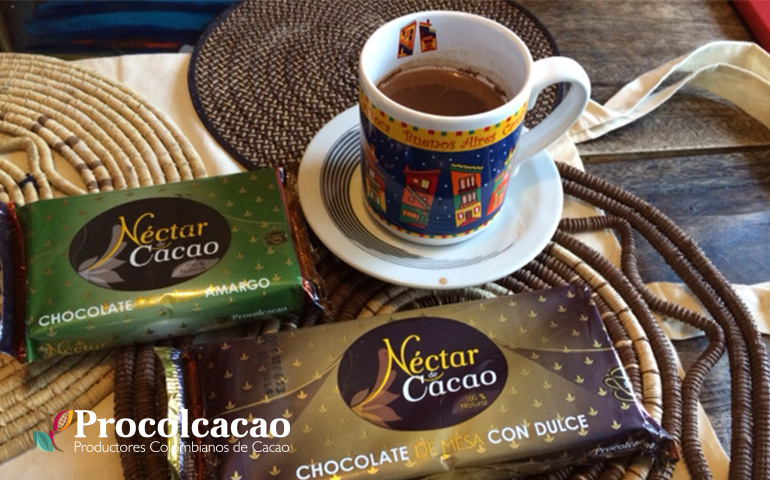 Thanks to this approach, our strategic actions are conducted in the following five lines of work:
We promote comprehensive personal and group initiatives on cacao farming, in view of the protection of their fundamental rights.
We urge solidarity by means of organizing associative forms, as effective instruments of decent work around cocoa production, the production of goods and services, and also social and communitarian empowerment in the context of productive initiatives.
We lead and perform training programs and technical training for production with our own resources and with the support of international cooperation agencies.
We carry out studies and social, economic and cultural research, in order to understand the reality of rural cacao producing communities, and we also implement projects for the full development of productive capacities of all.
We manage financial and human resources provided by public and private entities, as well as national and international cooperation agencies, for the implementation of the programs and initiatives of the company, and for the responsibilities associated with the production of excellent cacao.